Discover the Loire on a boat tour between Nantes and Angers. You can taste delicious local specialities (lien vers la page « Specialities) : wines, fishes, …
Cruise to the marketplace
What would you say to visiting one of the region's most authentic markets… by boat?
A morning outing, taking you on a voyage of discovery of the longest river in Europe and its magnificent scenery, is available every Thursday in July and August, on board the boat La Luce in Champtoceaux, departing from St-Florent-le-Vieil aboard the Vent d'Soulair, or from Montjean-sur-Loire with l'Aquila.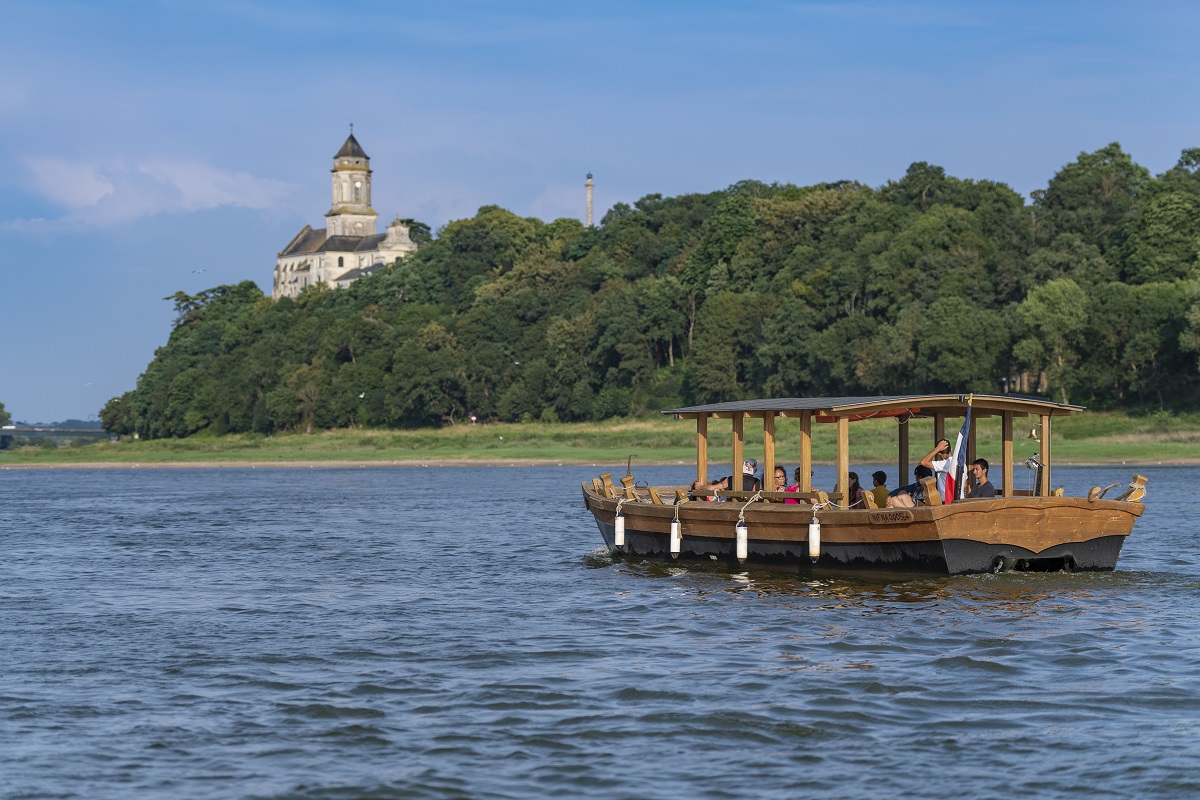 Once you have reached your destination, you will have an hour and a half to stroll through the rows of stands and discover our local products before heading back. Wine lovers will be particularly delighted by the last part of the excursion, when a wine tasting will be offered on board the boat!
Wine tasting on a boat
Share a moment of conversation and discovery of wines from our terroirs with friends in a light-hearted atmosphere.
This cruise is led by wine professionals (winemakers, oenologists, wine merchants, etc.) who are passionate about their products.
At the boat's helm, an enthusiastic sailing guide will punctuate your tour with commentary and anecdotes.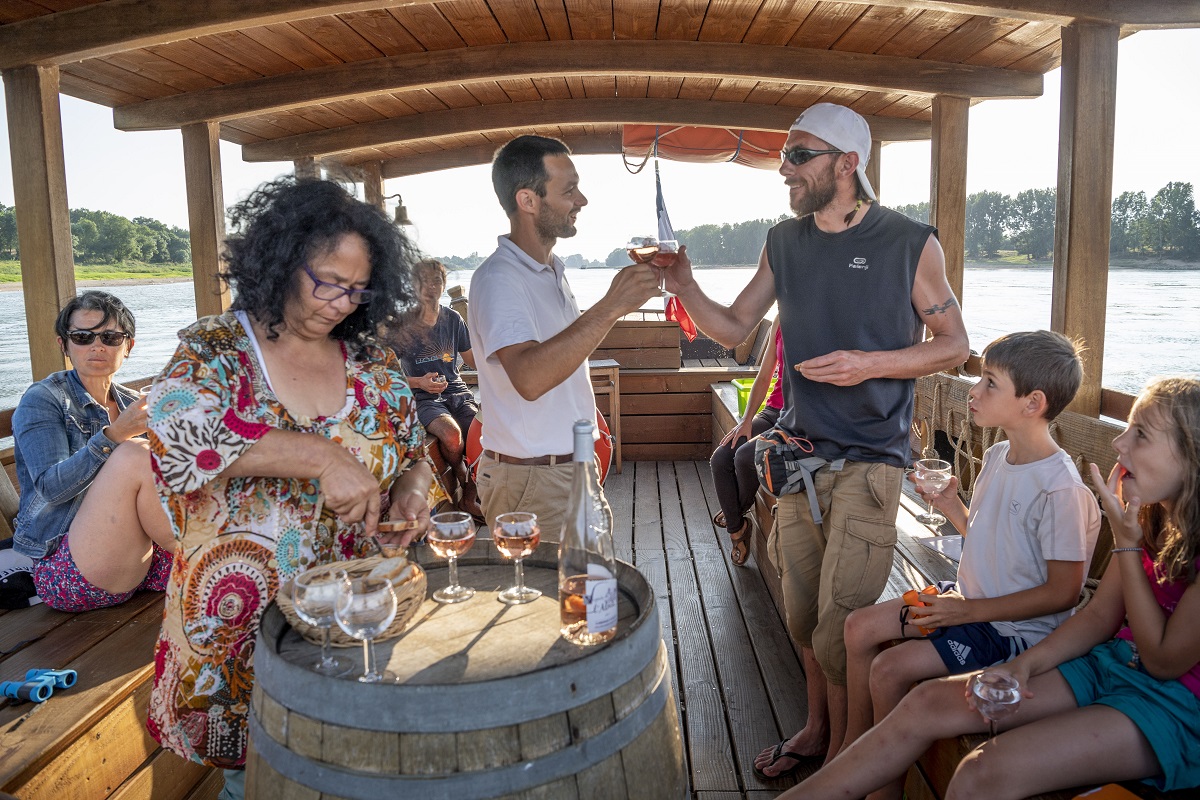 Looking for a refreshing, restful tour on the royal river? Between breakfast tours at dawn, evenings with readings, fishing excursions and cocktail tours, Matthieu Perraud will take you traveling along the Loire, departing from Saint-Florent-le-Vieil on board a small flat-bottomed barge with a cabin, so typical of Loire river vessels. These cordial tours offer a chance to chat with this professional fisherman from a fishing family that spans 10 generations. Cruises available by reservation.
You will love the cruises available on board La Luce, based at Le Cul du Moulin in Champtoceaux: whether you opt for a cocktail/wine cruise or a cocktail/concert cruise, you can sail along and admire our royal river from a different perspective! All aboard for an unusual tasty, musical getaway with Tristan and enjoy the magnificent vistas opening up to you, including the garden folly known as the Folies Siffait!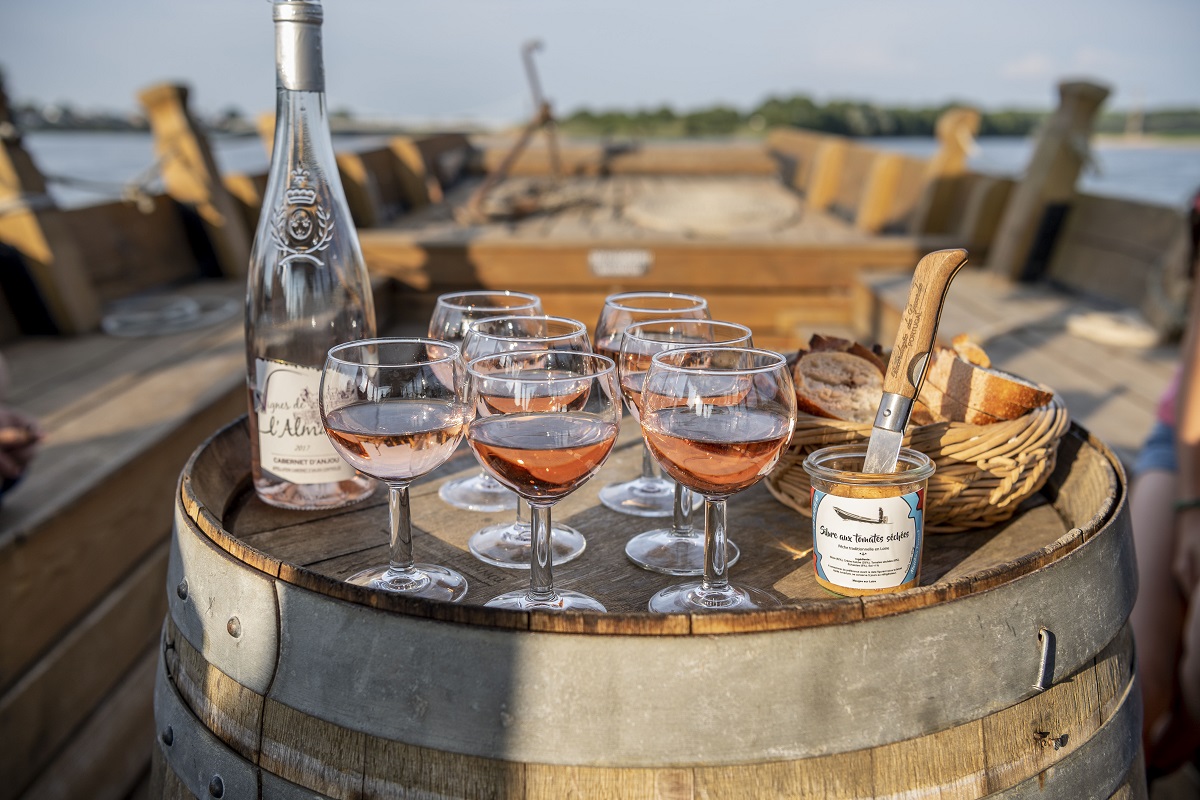 Marvel at the beauty of Montjean-sur-Loire at sunset over a glass of Crémant de Loire bubbly on board the Aquila. An enthusiastic professional will pilot the small flat-bottomed barge with a cabin, making sure your experience is a particularly enjoyable one. A tour of the Loire to discover local products, sit down to a gastronomic dinner and share an unforgettable time with family or friends.