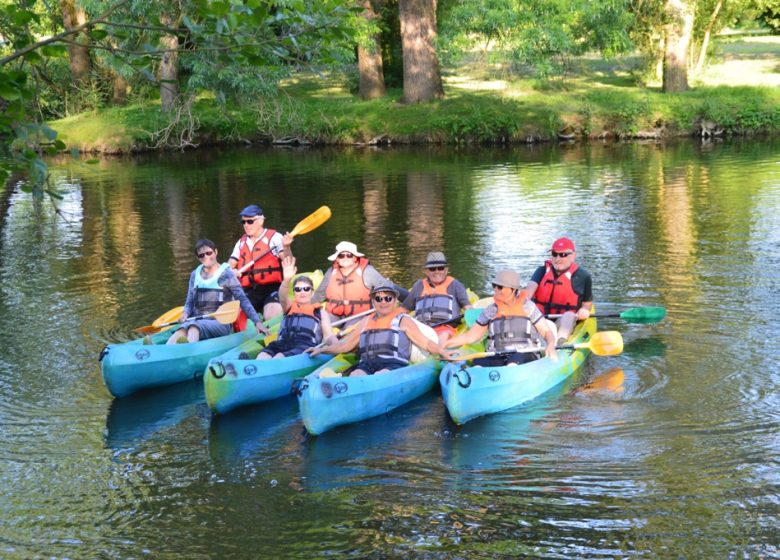 Le canoë kayak sur la rivière de l'Evre, c'est idéal en famille ou entre amis ! C'est ce que vous propose Thomas, alors rendez-vous à Evre Loisirs pour tenter l'aventure !
En canoë, kayak ou en paddle, venez découvrir la vallée de l'Evre et profiter des joies de la glisse à la base de loisirs de Notre Dame du Marillais !

Plusieurs parcours vous sont proposés au départ de la base : des parcours de 2h à la journée et même des parcours avec possibilités de bivouacs pour prolonger l'aventure... Des aires de pique nique et de jeux sont à disposition sur vos points d'étape et le long de votre circuit

#bulle
Activities
Customers
Avec les enfants (jusqu'à 12 ans)
En duo
En groupe
En solo
Avec les adolescents
Opening period
All opening periods have passed. Please contact the owner directly for more information.
Prices
Type
Price
Tarif indiv. adulte

Gratuit pour les moins de 6 ans. Demi-tarif pour les enfants de 6 à 14 ans.

10€ - 40€
Tarif indiv. adulte : of 10.00€ to 40.00€
Payment methods
Chèques bancaires et postaux
Chèques Vacances
Espèces