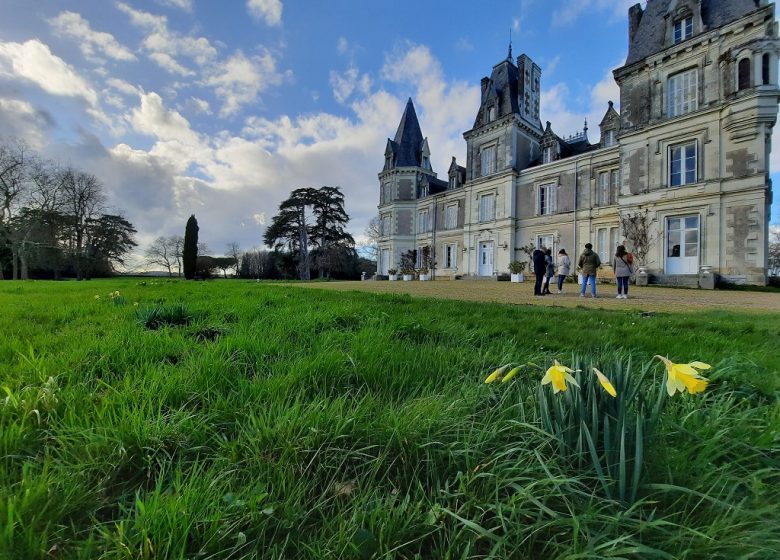 Au coeur des Mauges, tout le charme d'un grand parc à l'anglaise.
Vieux, rares ou exotiques, les arbres remarquables du parc sauront vous faire rêver. Prunus en fleur, chênes quadricentenaires, liquidambars, plaqueminiers et tulipiers de Virginie mais aussi séquoias, platanes d'Orient, cèdres du Liban, sapins d'Espagne...

Avec plus de cent espèces d'arbres disséminés sur une superficie de 35 hectares, ce très beau parc à l'anglaise, séduira aussi les âmes romantiques grâce à son bel étang et aux bois qui l'entourent.

Vous serez accueillis sur place par les propriétaires pour une visite libre ou guidée selon vos souhaits. Vous pouvez également organiser des visites thématiques et même des journées complètes pour un groupe en collaboration avec les propriétaires.

A côté de la traditionnelle visite botanique à laquelle de nombreux visiteurs sont très attachés, un jeu de piste est proposé, destiné à faire découvrir le parc mais également le rôle essentiel de l'arbre dans la richesse et l'équilibre des écosystèmes.

Fermetures annuelles du 1er au 13 juillet et du 13 au 31 août.
Visit
Average duration of the individual visit : 2 h min
Groups from 2 to 10 people welcome.
Customers
Avec les enfants (jusqu'à 12 ans)
En duo
En groupe
En solo
En tribu
Avec les adolescents
Opening period
From 01 April to 30 June
Saturday
Open from 14h to 19h
Sunday
Open from 14h to 19h
From 14 July to 15 August
Monday
Open from 14h to 19h
Tuesday
Open from 14h to 19h
Wednesday
Open from 14h to 19h
Thursday
Open from 14h to 19h
Friday
Open from 14h to 19h
Saturday
Open from 14h to 19h
Sunday
Open from 14h to 19h
From 01 September to 31 October
Saturday
Open from 14h to 19h
Sunday
Open from 14h to 19h
From 01 November to 30 April
Monday
Open
Tuesday
Open
Wednesday
Open
Thursday
Open
Friday
Open
Saturday
Open
Sunday
Open
From 01 November to 30 April
Monday
Open
Tuesday
Open
Wednesday
Open
Thursday
Open
Friday
Open
Saturday
Open
Sunday
Open
Prices
Type
Price
Tarif indiv. adulte

Visite libre, gratuit pour les - 12 ans

5€
Tarif groupe adulte

Visite du Parc + Chapelle du Château

6€ - 8€
Tarif indiv. adulte

Tarif jeu de piste par groupe de 2 à 5 personnes.

15€
Tarif indiv. adulte : 5.00€
Tarif groupe adulte : of 6.00€ to 8.00€
Tarif indiv. adulte : 15.00€
Payment methods
Cartes bancaires
Chèques bancaires et postaux
Espèces